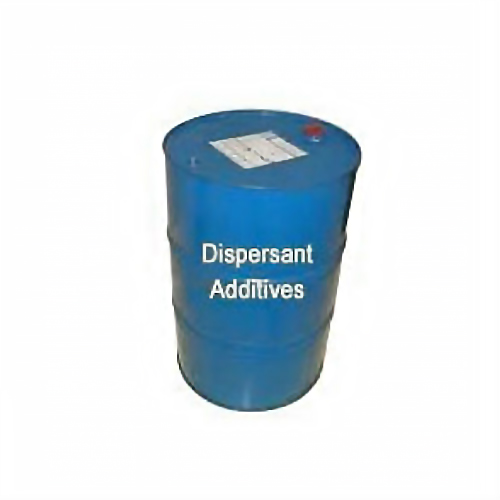 Handling & Storage
Maximum temperatures of 90 °C for handling and 45 °C for longterm storage are recommended. Ordinary precautions for handling concentrated chemicals and blending additives into base oils should be observed.
PIBSI Dispersant / Emulsifier
Formulations
Recommended at
By weight
0.5% - 5.0%
By volume
0.5% - 5.0%
in crank case engine oils, in combination with detergent and inhibitor chemicals to improve lubricant dispersancy properties for engines operating under low and high temperature conditions.


Application
Lubricant and fuel additives
Emulsifiers
It diffuse sludge, carbon, soot, oxidation products, and other deposit precursors in engine oils. The result is reduced deposit formation, less oil oxidation, and less viscosity increase.
An ashless dispersant additive with low chlorine content.
Chemical
Nitrogen, wt%
ASTM D5291
1.2
TBN, mg KOH/g
ASTM D2896
21
Physical
Specific Gravity, @ 15.6°C
ASTM D4052
0.915
Flash, COC °C
ASTM D92
175
Viscosity, cSt @ 100°C
ASTM D445
90-330
Material Safety Data Sheet of PIBSI Dispersant / Emulsifier
Chemical Product & Company Identification
Generic / Chemical Name :Industrial Lubricant/Additive
Preparation / Revision Date
Transportation Emergency : Phone no. 022-28390698
Composition / Information Of Ingredients
Specia1,High Molecular Weight, Polyisobutylene Succinic Imide (PIBSI) and Poly Iso Butylene Succinic Amide with higher Nitrogen contents (PIBSA).
Specially manufactured for performance in diesel engine dispersants additive, Blended with superior grade industrial base oils.
Hazardous Ingredients This material has no known hazards under applicable laws.
Hazard's Identiication
Principal Hazards
This material has no known hazards.
See section 11 for complete health hazard information.
First Aid Measures
Oral : DO NOT INDUCE VOMITING. If conscious, give 2 glasses of water. Get immediate medical attention.
Eye : Flush with water at least 15 minutes. Get medical attention if eye irritation develops or persists.
Skin : Wash with soap and water. Get medical attention if irritation develops. Launder contaminated clothing before reuse.
Inhalation : Remove exposed person to fresh air if adverse effects are observed.
Additional Note to physician : Treat Symptomatically
Fire Fighting Measures
Flash Point : 175°C PMCC
Upper Flammable Limit: N /A
Lower Flammable Limit: N /A
Extinguishing Media: Water, CO2
Special Firefighting Procedures: NORMAL
Accidental Release Measures
Spill Procedures : Personal Protective Equipment must be worn, see Personal Protection Section for PPE recommendations. Ventilate area if spilled in confined space or other poorly ventilated areas. Prevent entry into sewers and waterways. Pick up frcn liquid for recycle and / or disposal. Residual liquid can be observed on inert material. Check under Transportation and Labe1ling and other regulatory information Section (SARA) hazardous substances to determine regulatory reporting requirements for spills.
Handling And Storage
Handling Procedures : Keep containers seized when not in use. Wash thoroughly after handling. Empty containers contains product residue which may exhibit hazardous of product. Storage Procedures No Special storage precautions required.
Exposure Controls / Personal Protection
Ventilation Procedures : Use with adequate ventilation.
Gloves Procedures : Nitrile.
Respiratory Protection Under normal use conditions, respirator is not usual11 required. Use NIOSH / MSHA approved disposable dust / mist mask if the recommended exposure limit is exceeded.
Clothing Recommendation: Long sleeve shirt is recommended
Physical & Chemical Properties
| | |
| --- | --- |
| PH | Basic |
| Specific Gravity 15.6 C | 0.95 |
| Water Solubility | Insoluble |
| Percent Volatile | Not Volatile |
| Vapor Density | -- |
| Evaporation Rate | -- |
| Odor | -- |
Stability And Reactivity
Stability Material is noramlly stabable at moderately elevated temperatures and pressures.
Incompatibility : None known, avoid contact with reactive chemicals.
Polymerization : Will not occur
Thermal Smoke, carbon monoxide, aldehydes
Toxicology Information
Acute Exposure
Oral Toxicity : The LD 50 in rats is > 5000 mg/kg. Based on data from components or similar materials.
Eye Irritation : Not expected tc cause eye irritation. Based on data from similar materials.
Skin Irritation : Not expected to be a primary skin irritant. Based on data from similar materials.
Dermal Toxicity: The LD 50 in rabbits is > 2000 mg / kg. Based on data from similar materials
Inhalation Toxicity No data available to indicate product or components may be a toxic inhalation hazard.
Respiratory Irritation : If material is misted or if vapors are generated form heating, exposure may causes irritation of mucous memberanes and the upper respiratory tract similar to that observed with mineral oil. Based on data from similar materials.
Under good industrial hygiene practices where all exposure limits are observed, respiratory irritation should not be a problem.
Dermal Sensitization No data available LO indicate product or components be respiratory sensitizers.
Inhlation : No data available to indicate product or components may be respiratory sensitizer
Chronic Exposure
No data available to indicate product or components may be respiratory sensitizer.
This information presented herein has been compiled from sources considered to be dependable and is accurate to the best of the Goodway Chemicals Pvt Ltd. knowledge; however, The Goodway Chemicals Pvt Ltd. makes no warranty whatsoever, expressed or implied of MERCHANTABILITY OR FITNESS FOR THE PARTICULAR PURPOSE, regarding the accuracy of such data or the results to be obtained from use thereof. The Goodway Chemicals Pvt Ltd assumes no responsibility for injury to recipient or to third person or for any damages to any property and recipient assumes all such risks.